Iarsmalann Míoleolaíocht agus Bitheolaíocht Mara
Bhí lá iontach ag páistí Rang a hAon ar an Luan seo caite 8ú lá de Bhealtaine, nuair a thug muid cuairt ar Iarsmalann Míoleolaíocht agus Bitheolaíocht Mara in Ollscoil na Gaillimhe.
Ar maidin chuaigh muid go dti an Iarsmalann Geolaíochta James Mitchell i gCearnóg na hOllscoile. Ansin thug muid cuairt ar an Iarsmalann Míoleolaíocht agus Bitheolaíocht Mara. Bhí lón ansin againn sa gCearnóg.
Tar éis lón bhí deis ag na páistí cuid do na hainmhithe andúchasacha a fheiceáil agus a lámhseáil faoi stiúir an saineolaí Dayle Leonard. B'iontach an taithí a bhí anseo do na páistí.
Last Monday 8th Of May Rang a hAon went on an educational tour to the Zoology and Marine Biology Museum on the NUIG Campus in Galway city.
To start the tour we visited the James Mitchell Geology Museum, nicknamed "Galway's Hidden Museum" in the Quadrangle building. Here the children were given a guided tour of the large collection of rare rocks, ancient fossils and precious gems on display.
The children then had lunch on the lawn in the Quadrangle. After lunch we walked over to the Ryan Institute where the newly refurbished Zoology and Marine Biology Museum is housed. Here the children received a guided tour of the museum and its over 500 specimens on display. These included a wide range of animals, native and exotic creatures from all over the world.
Finally, we met Dayle Leonard a Masters student in the Venom Systems and Proteomics Laboratory in the Zoology department. Here Dayle showcased some of the animals under his care including, Kenge the Argentine Black and White Tegu, a stick insect, a Burmese Python, an Axolotl name Axel, a Tarantula, a South American Tortoise, and a Leopard Gecko named Leah.
During the class Dayle explained to the children about the various animals and their habitats and characteristics. Everyone got a chance to view and handle some the animals under Dayle's expert supervision. The children really enjoyed the Q & A session at the end of the class. This tour was an amazing experience for the children.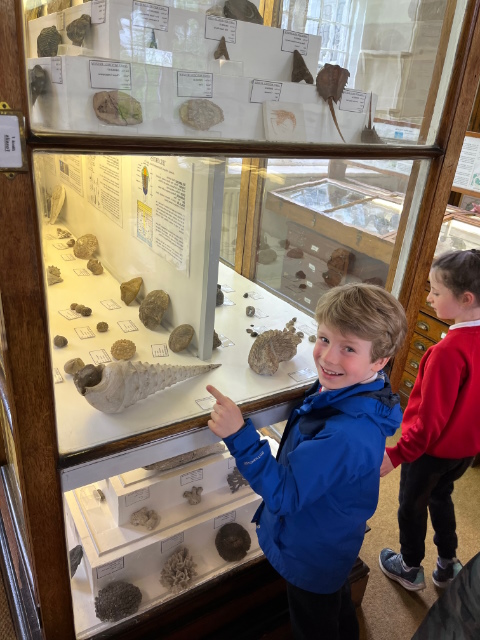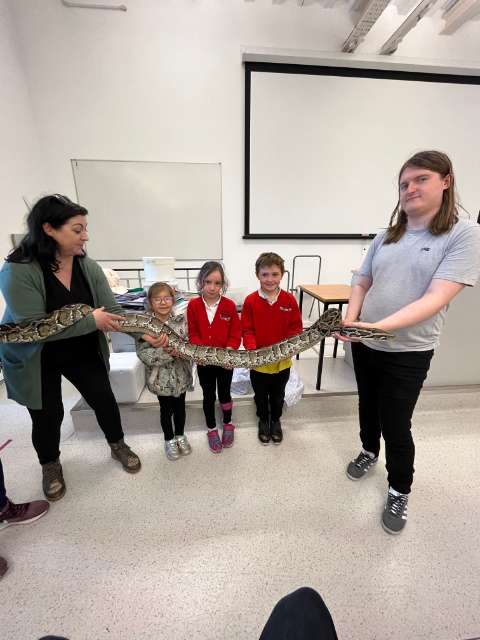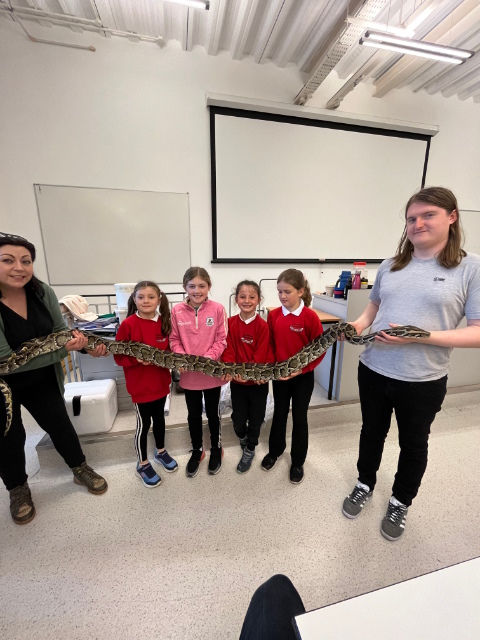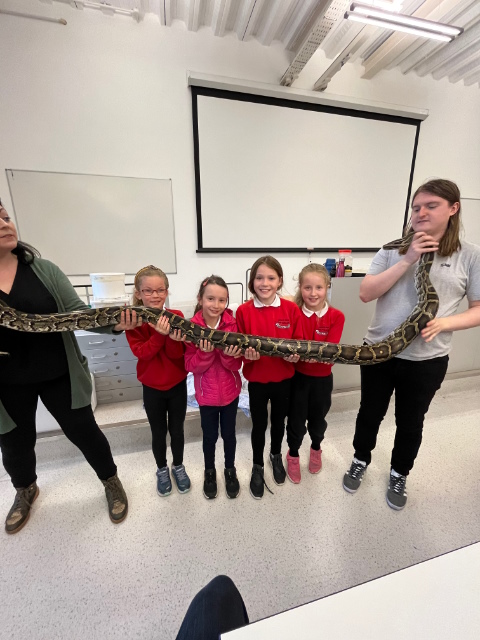 Cártaí Naomh Vailintín
Seo cártaí Naomh Vailintín a rinne Rang a hAon i rith rang Ealaíne.
These are the lovely Valintine cards Rang a hAon made during art class.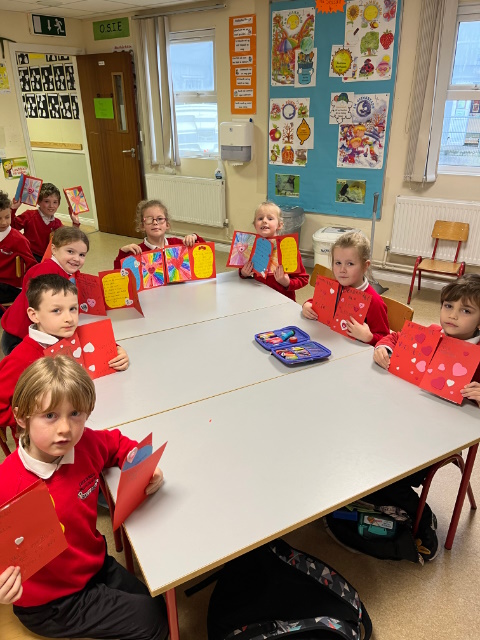 Croiseanna Bríde as Luachair
Páistí Rang a hAon ag obair le luachair agus iad ag déanamh Croiseanna Bríde.
Rang a hAon attempting to make Saint Bridget's crosses with rushes.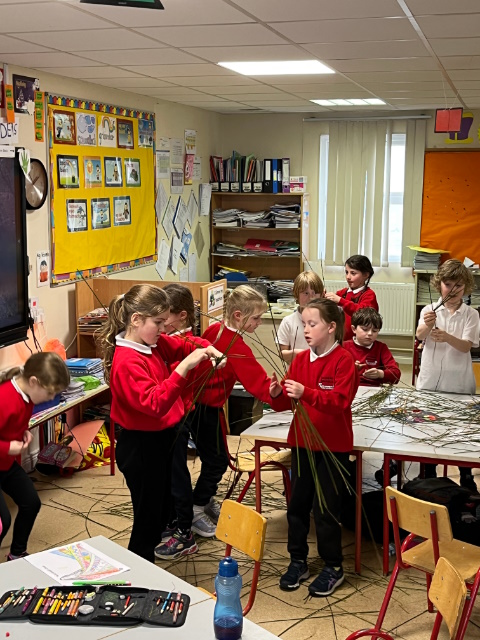 Croiseanna Bríde déanta as cré
Rinne páistí Rang a hAon croiseanna Bríde as cré i rith rang ealáine mar chuid do cheiliúradh na Féile Bríde.
Rang a hAon sculpted Saint Bridget's Crosses with clay during art class as part of our St. Bridget Celebrations.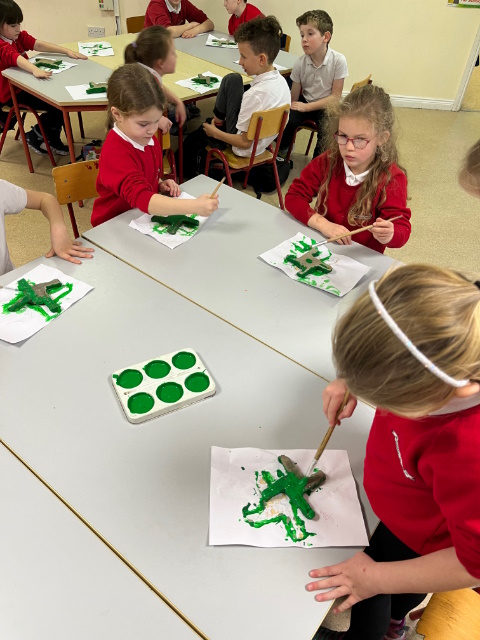 Ealaín na Nollag Rang a hAon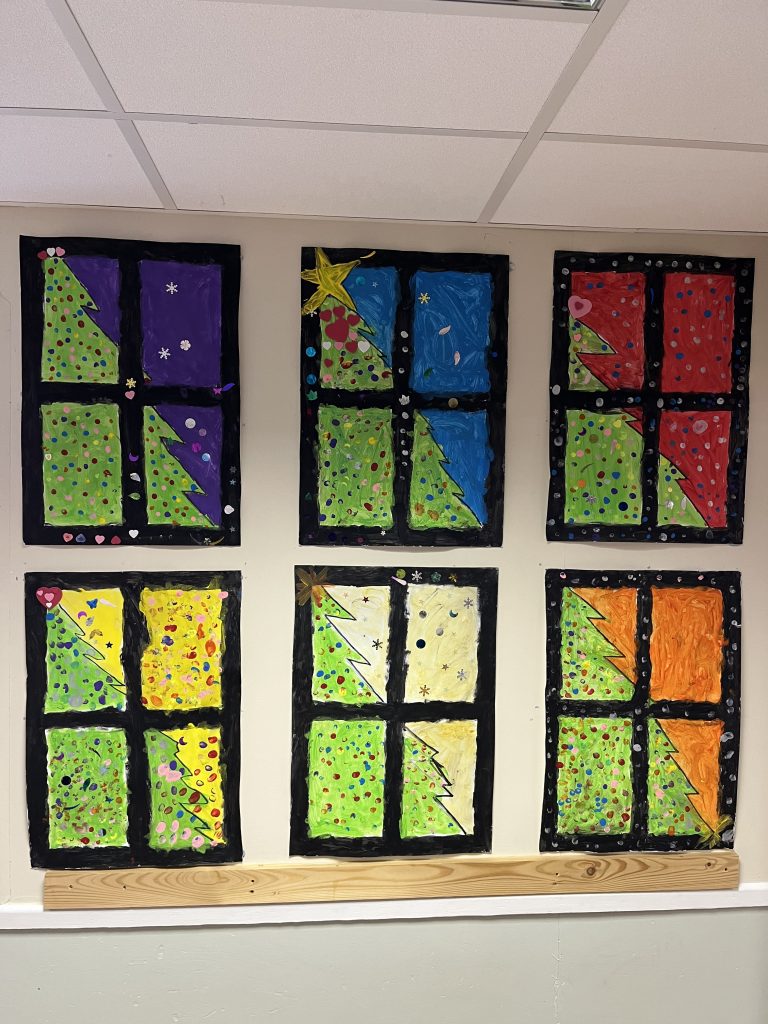 Óga Yoga Rang 1
Bhain páistí Rang a hAon an sásamh as an seisúin yoga le Ciarán Mac Fhearghusa
le déanaí.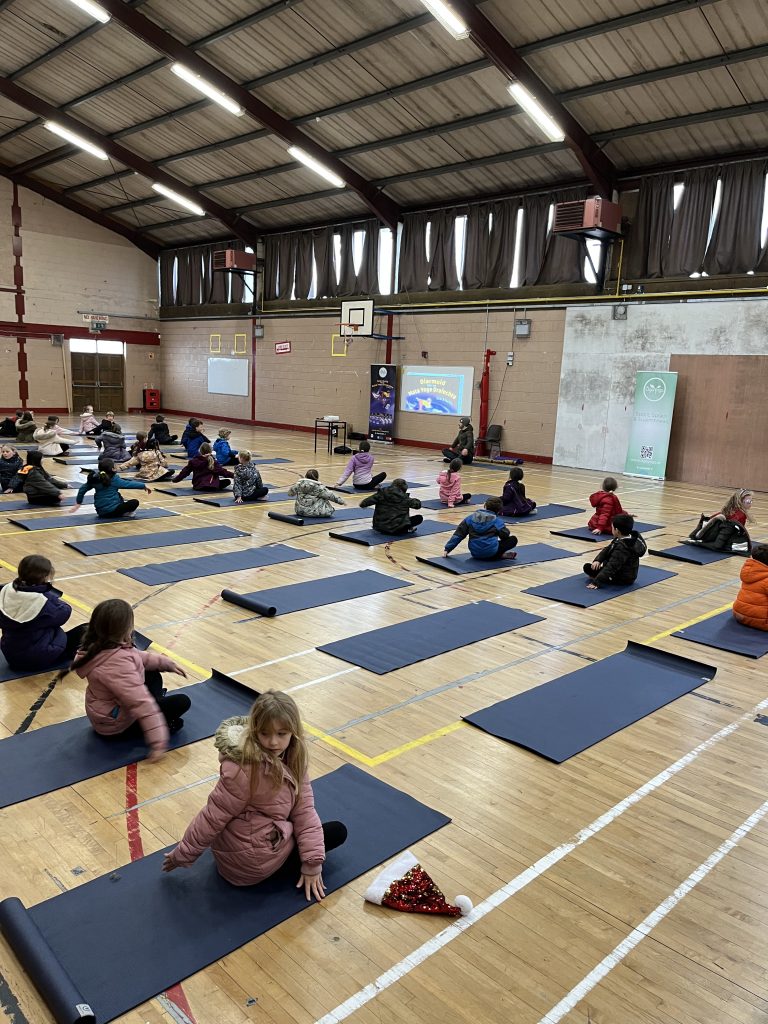 Sheachtain Eolaíochta
Tháinig Eolaí Ray ar cuairt chuig an scoil le déanaí mar chuid do Sheachtain Eolaíochta 2022. Rinne sé neart turgnaimh spraoíula leis na bpáistí
Ray the scientist recently visited the school as part of Science Week 2022. The children participated in the experiments. We had lots of fun too!!!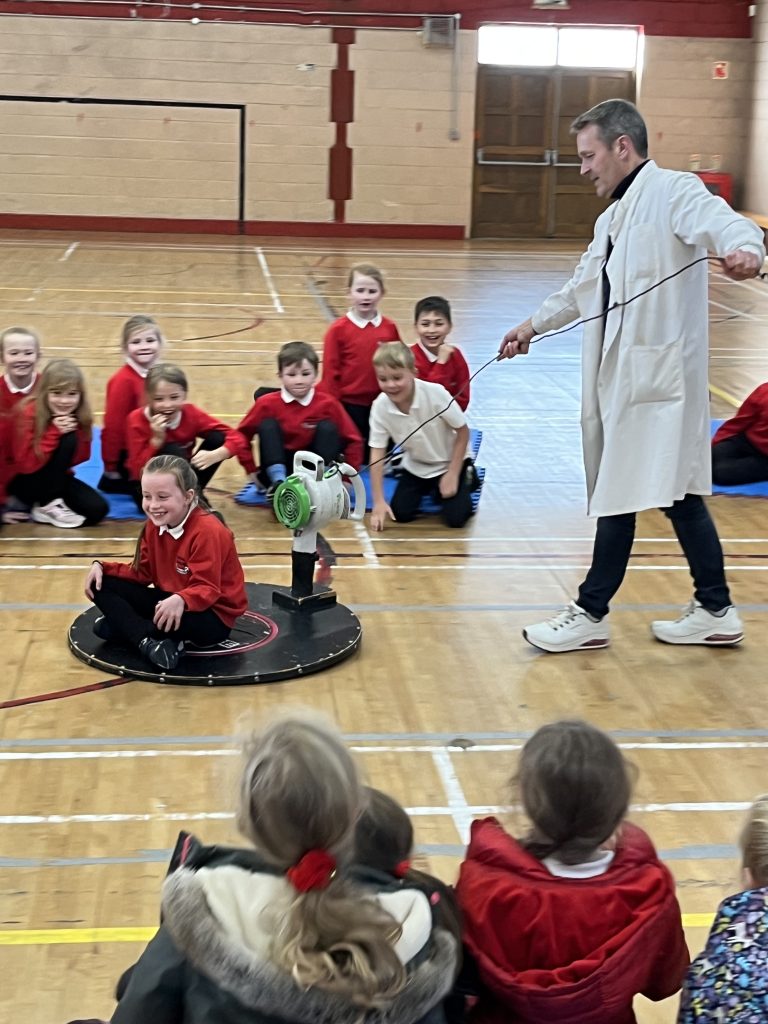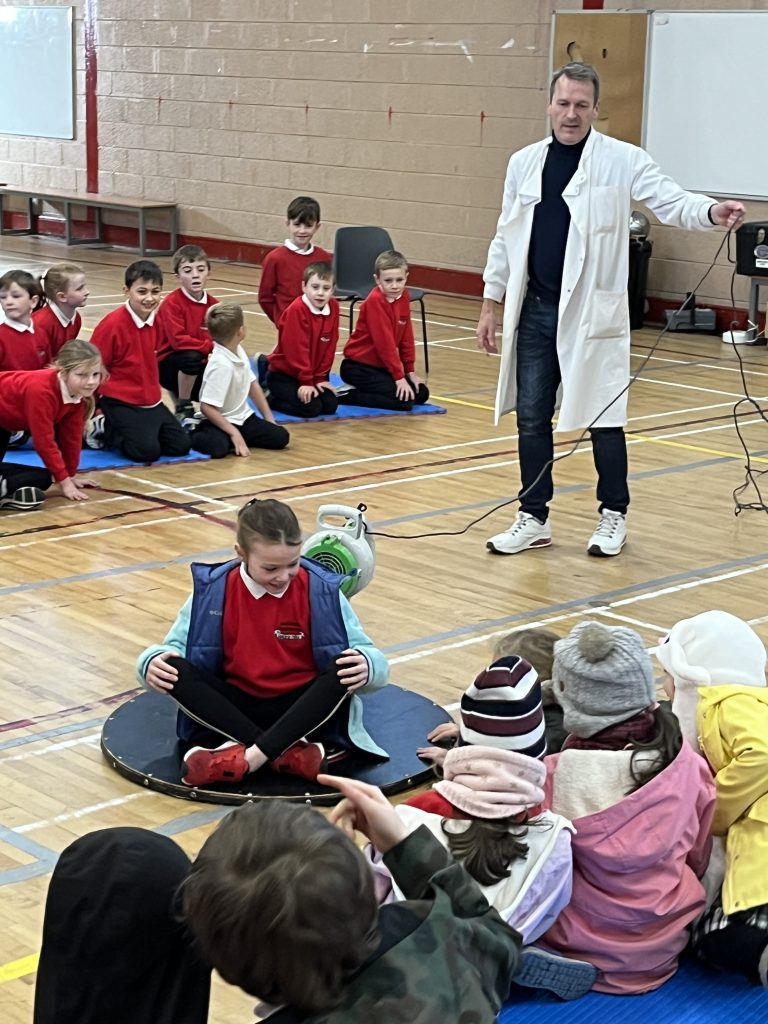 Junior Achievement
Bhí Gráinne Engels ionadaí le Junior Achievement istigh linn i Rang a hAon le cúpla seachtaine anuas. Bhí sí ag múineadh ceachtanna OSPS (Oideachas Sóisialta, Pearsanta & Sláinte) bunaithe ar an "Teaghlach" agus an tábhacht atá le pobal agus daoine ag obair le chéile chun aon sochaí a chur chun cinn. Thaitin na ceachtanna go mór le na bpáistí.
First class participated in the Junior Achievement Programme lately. The theme was based on "Families" and explaining to the children that society depends on people working together. This theme is part of the SPHE curriculum. The children really enjoyed the fun activities in the lessons that were presented by our J.A. Volunteer Gráinne Engels.
Bhain Rang a hAon an-taitneamh as gleasadh suas ag ullmhú d'Oíche Shamhna. Bhí lá den chéad scoth againn agus bhí gach duine ag breathnú go hiontach. Thug na páistí isteach airgead d'Ospidéal na bPáistí i gCromghlinn.
Rang a hAon really enjoyed dressing up for Halloween at school last Friday. We had a brilliant day and everyone looked amazing. The children also brought in donations for Children's Health Ireland Hospital.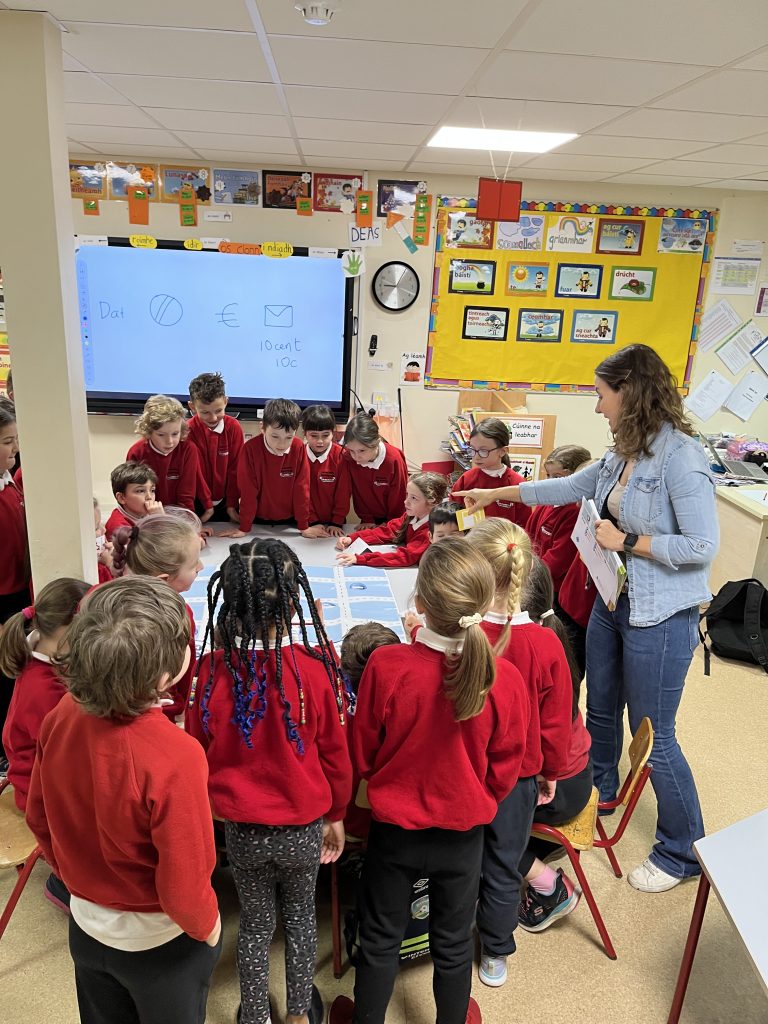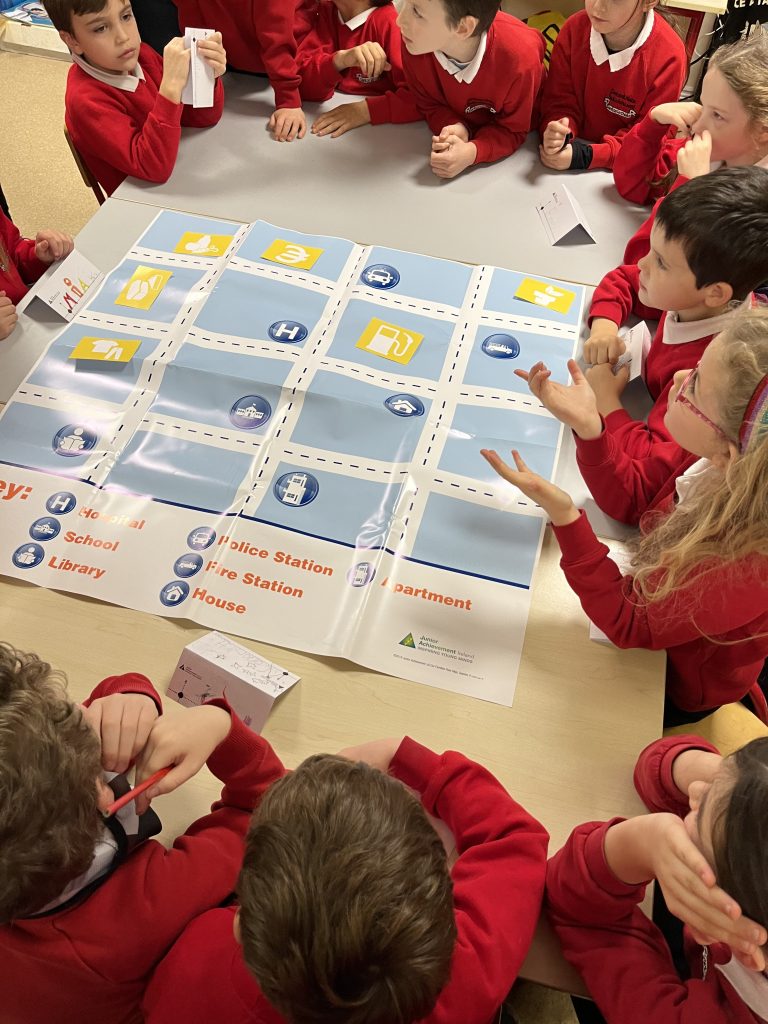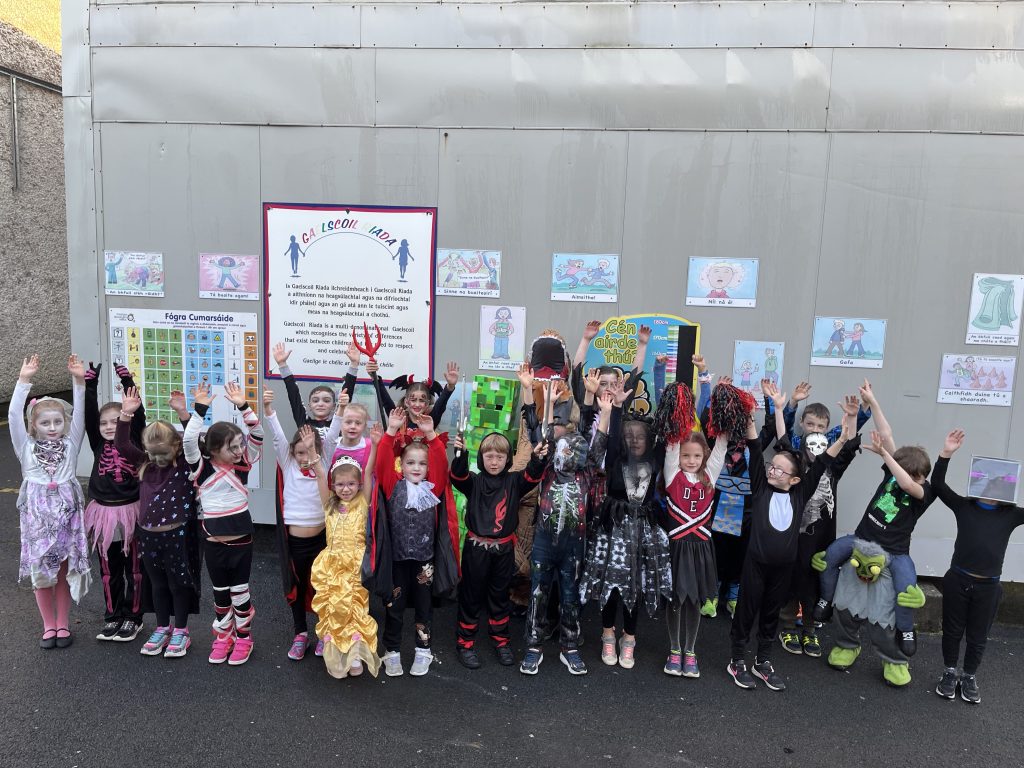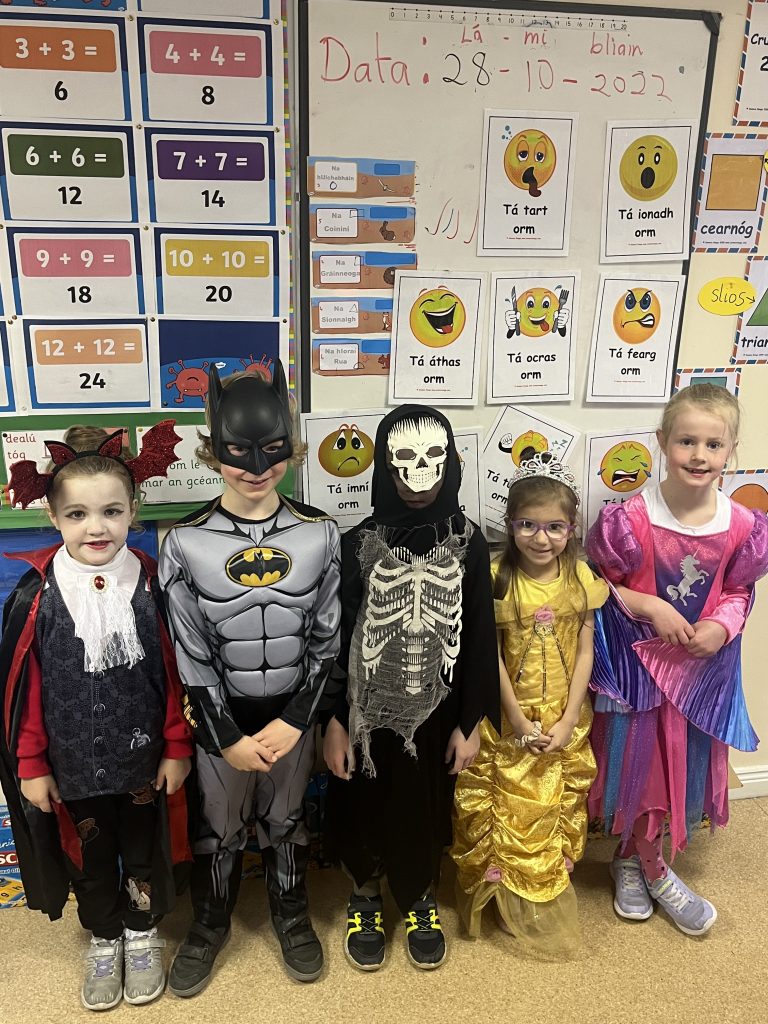 Bhí spórt iontach ag Rang a hAon ag déanamh a mascanna Oíche Shamhna. Bhíodar an chruthaitheach ina gcuid oibre agus bhí gach masc acu éagsúil. Maith sibh!
Rang a hAon showed their creative flair this week when they made lovely eye-catching Halloween masks. Go h-álainn!!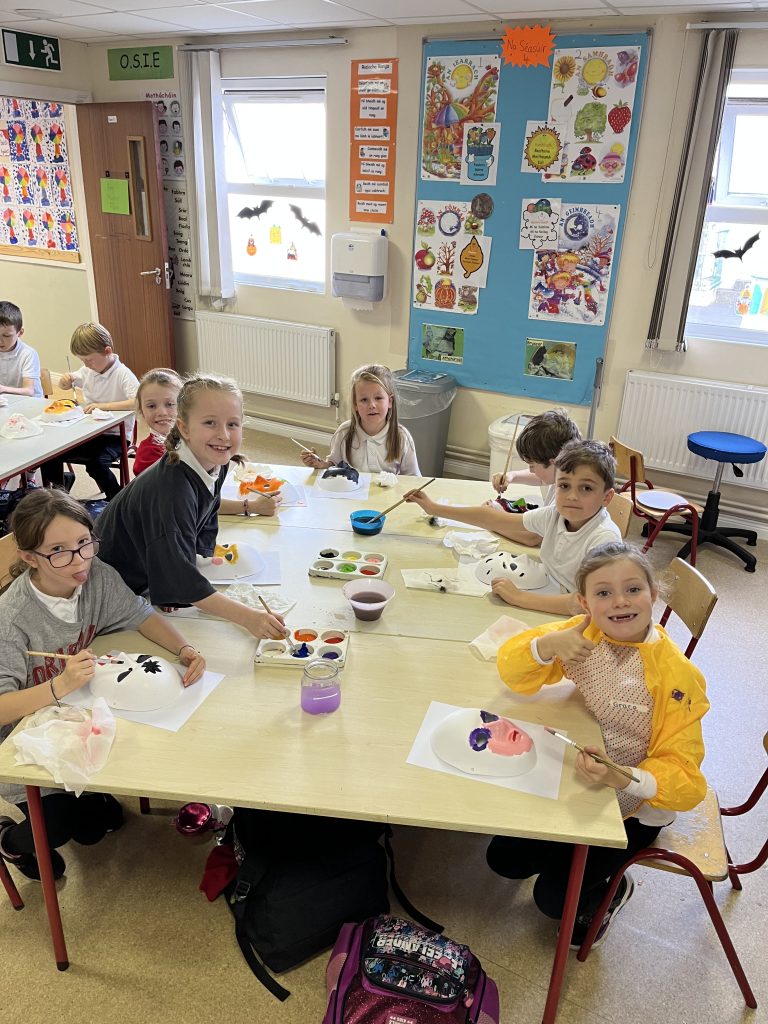 Thug Rang a hAon cuairt chuig Páirc Rinn Mhíl in Órán Mór le déanaí. Bhí lá iontach againn. Bhain an rang an-sult as an siúlóid dúlra sa choill. Thaitin Cosán na Síog go mór leo. Fuair muid seans siúlóid cois cladaigh a dhéanamh chomh maith.
Rang a hAon recently visited Renville Park in Oranmore. We had a great day. The children enjoyed the nature walk through the Woods and in particular the Fairy Trail. We also got the chance to take a walk by the seashore.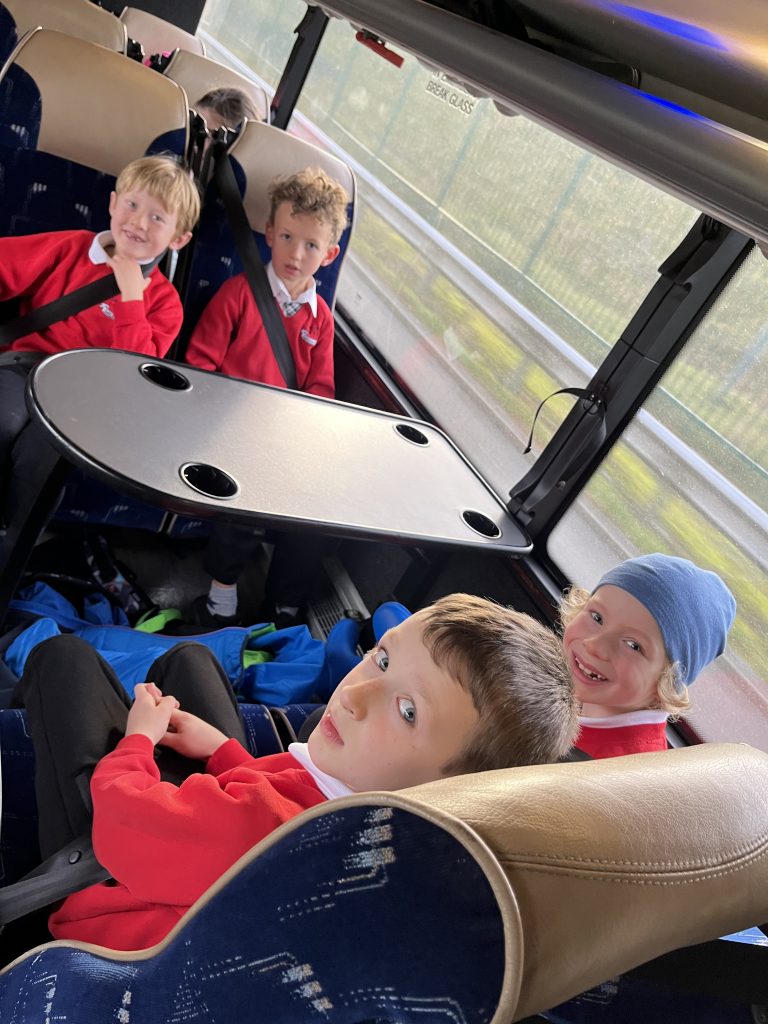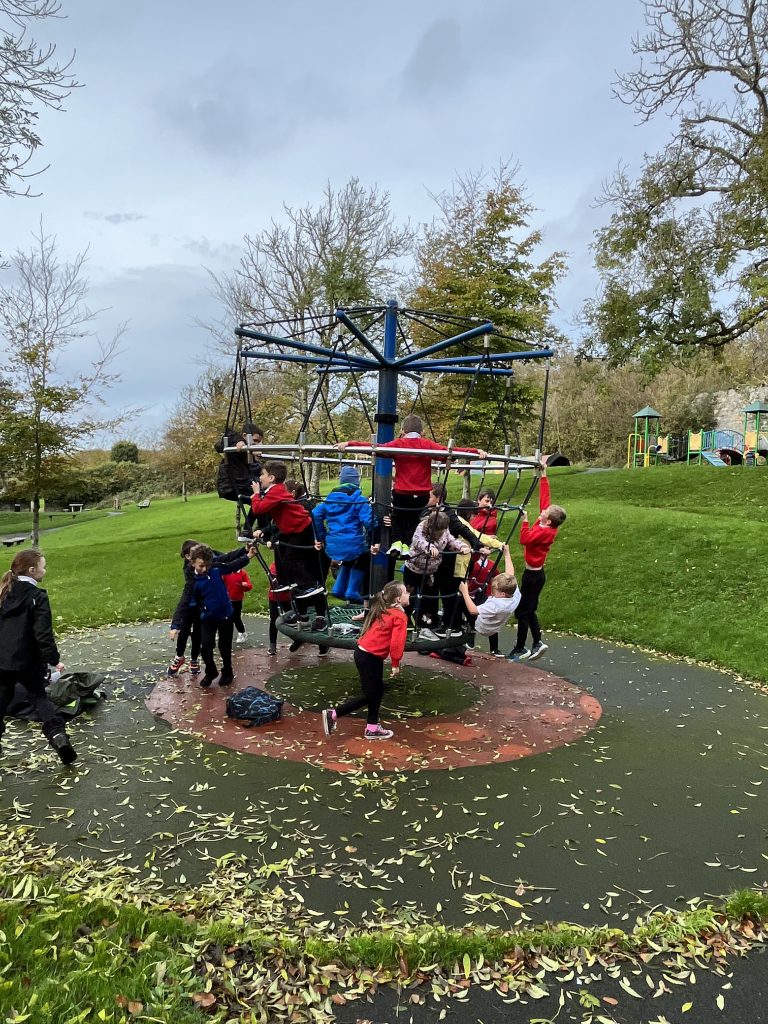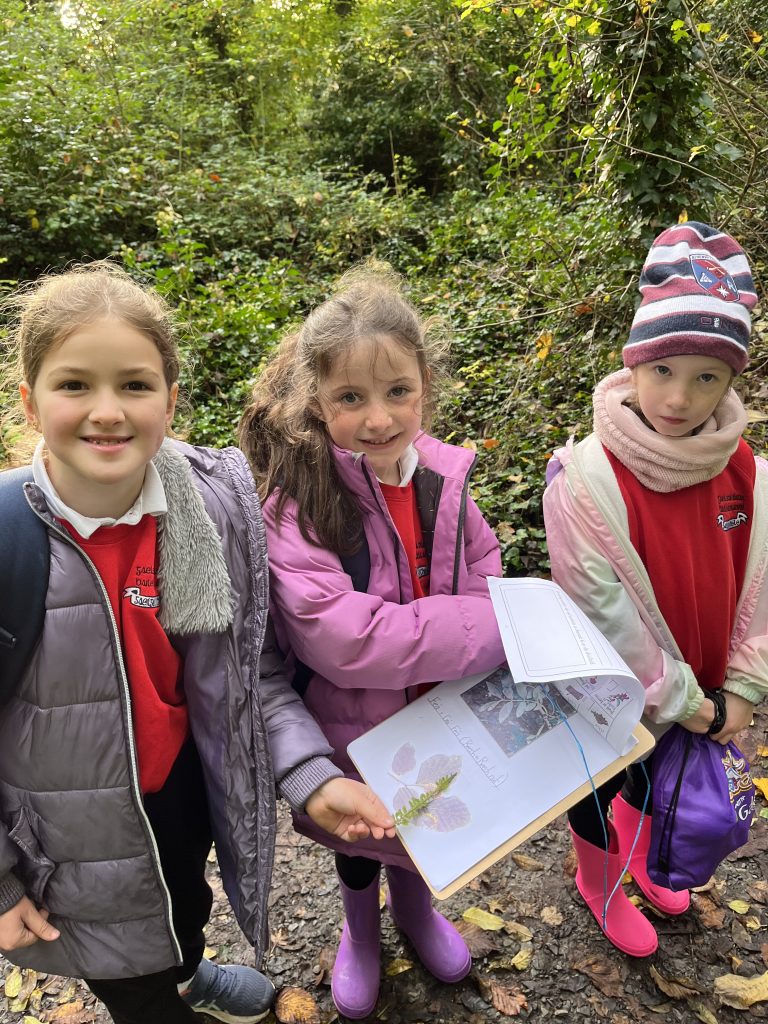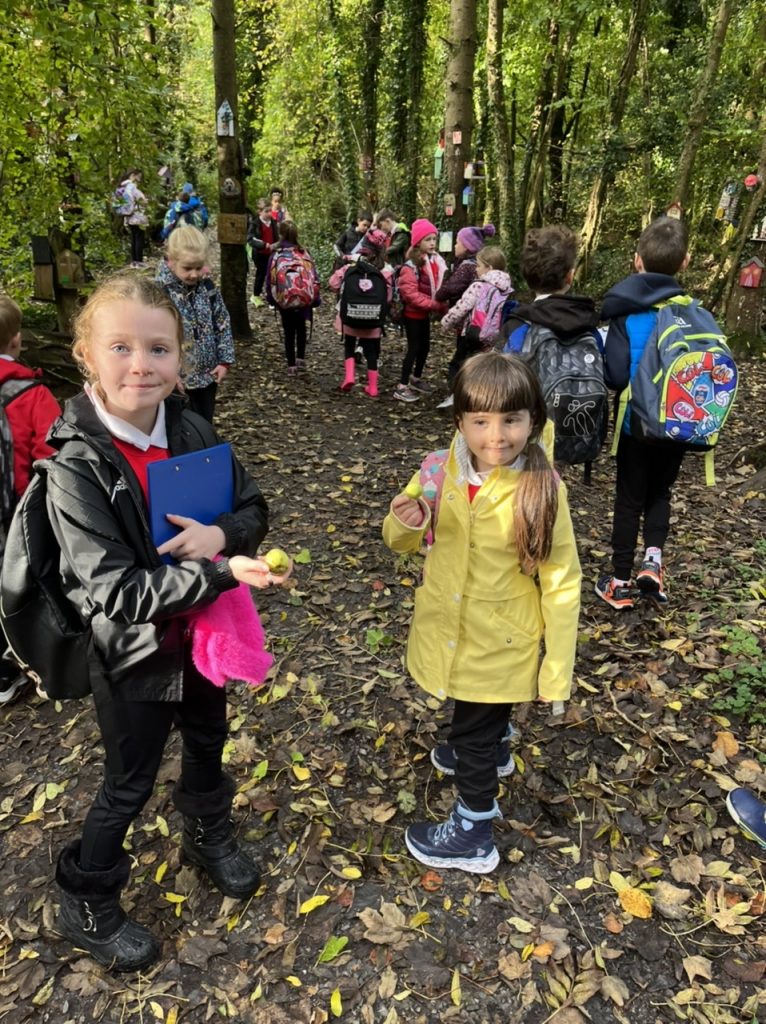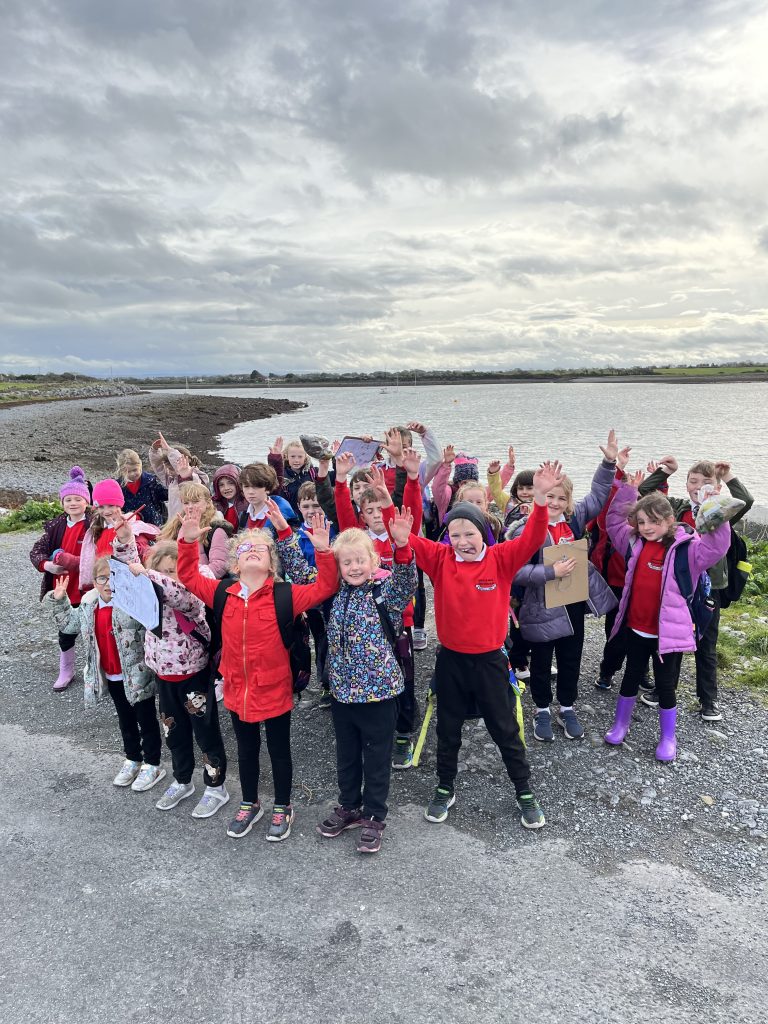 Turgnamh "Skittles" bunaithe ar Concentration Gradient. Ní mheascann na dathanna le chéile san uisce mar gheall ar an tsiúcra atá ann. Bhain páistí Rang a 1 an-sult as.
Rang a 1 enjoying the Skittles Experiment based on the "Concentration Gradient" concept.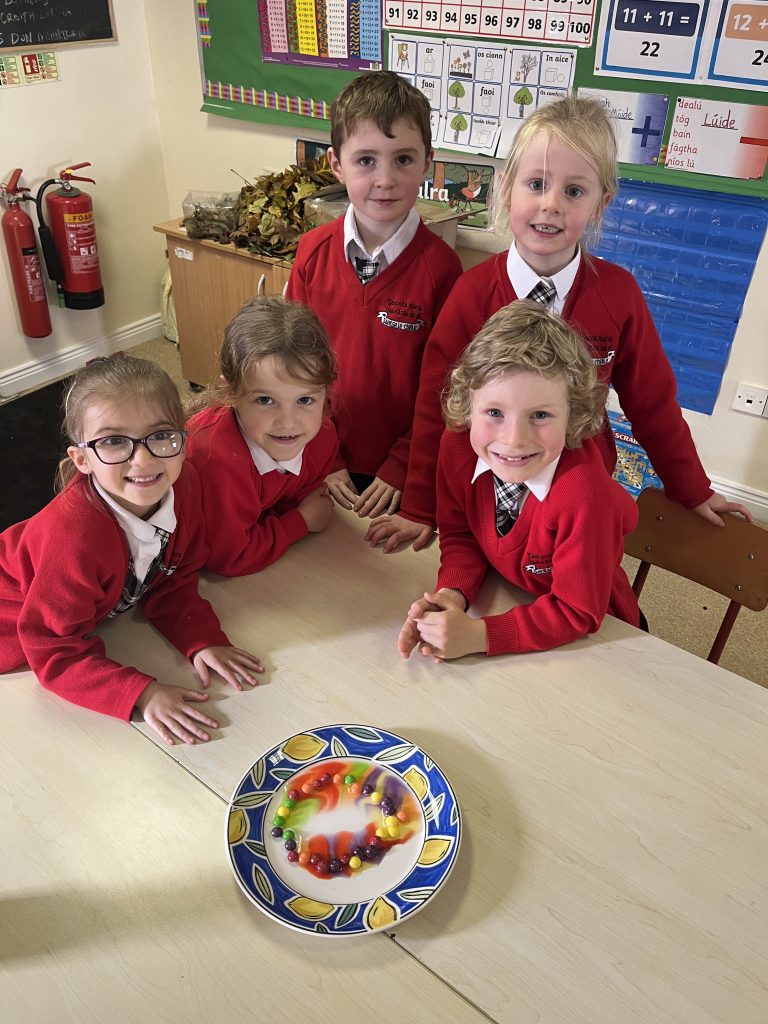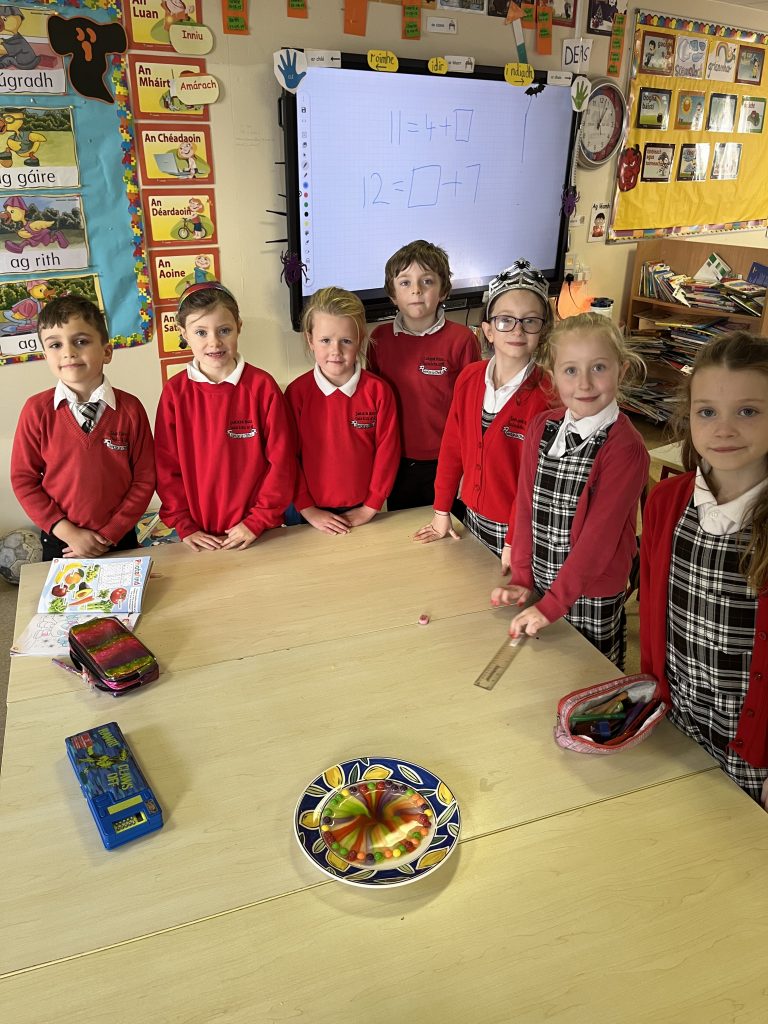 Rang a 1 ag freastal ar lainseáil leabhair "Golden Wings" sa scoil le déanaí. Thaitin na hUlchabháin go mór leo.
Rang a 1 attending the "Golden wings" book launch at our school lately. They really enjoyed learning about the Owls.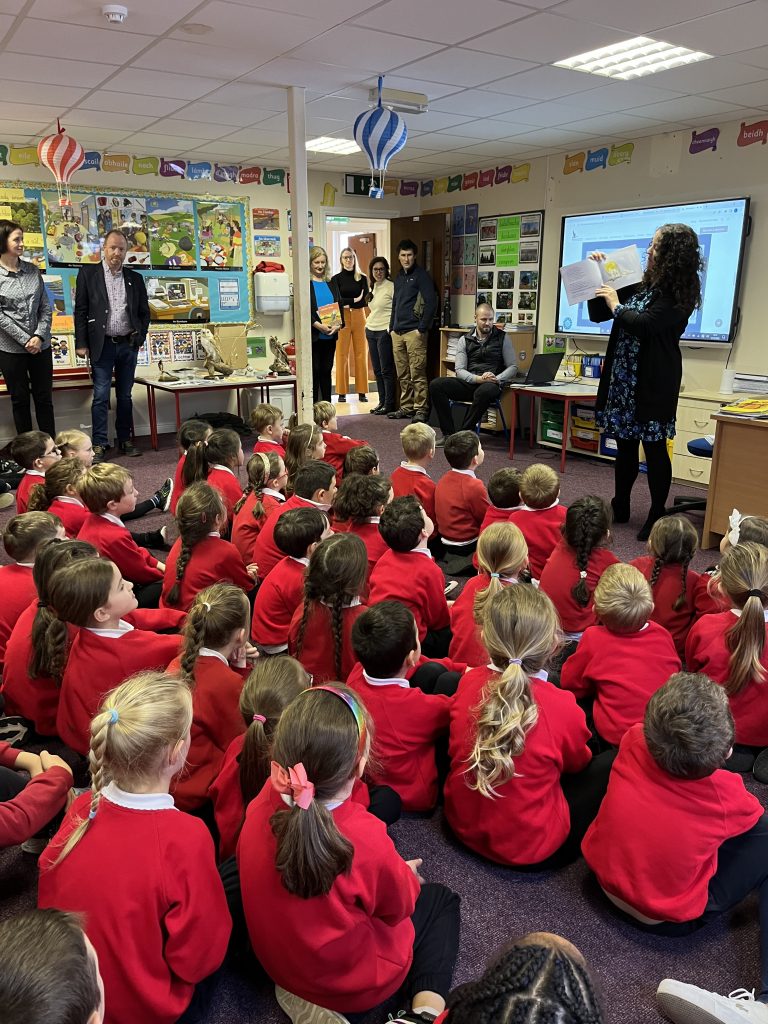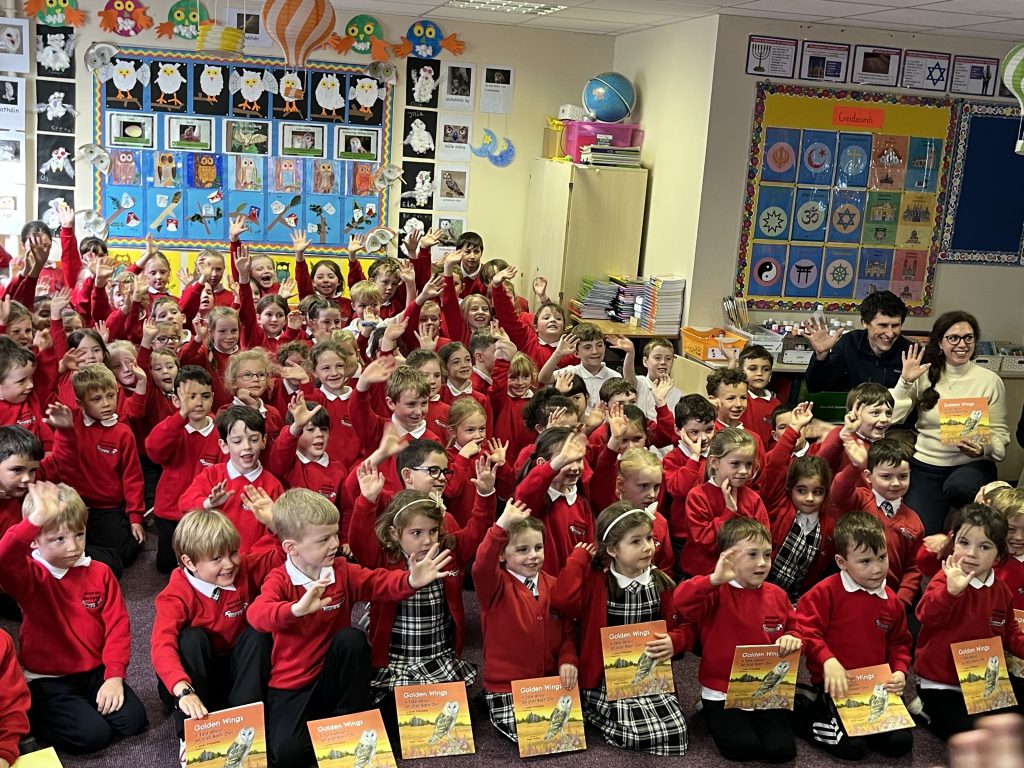 Bhí an-spraoí ag Rang 1 inniu agus iad ag cleachtadh an feadóg stáin😊